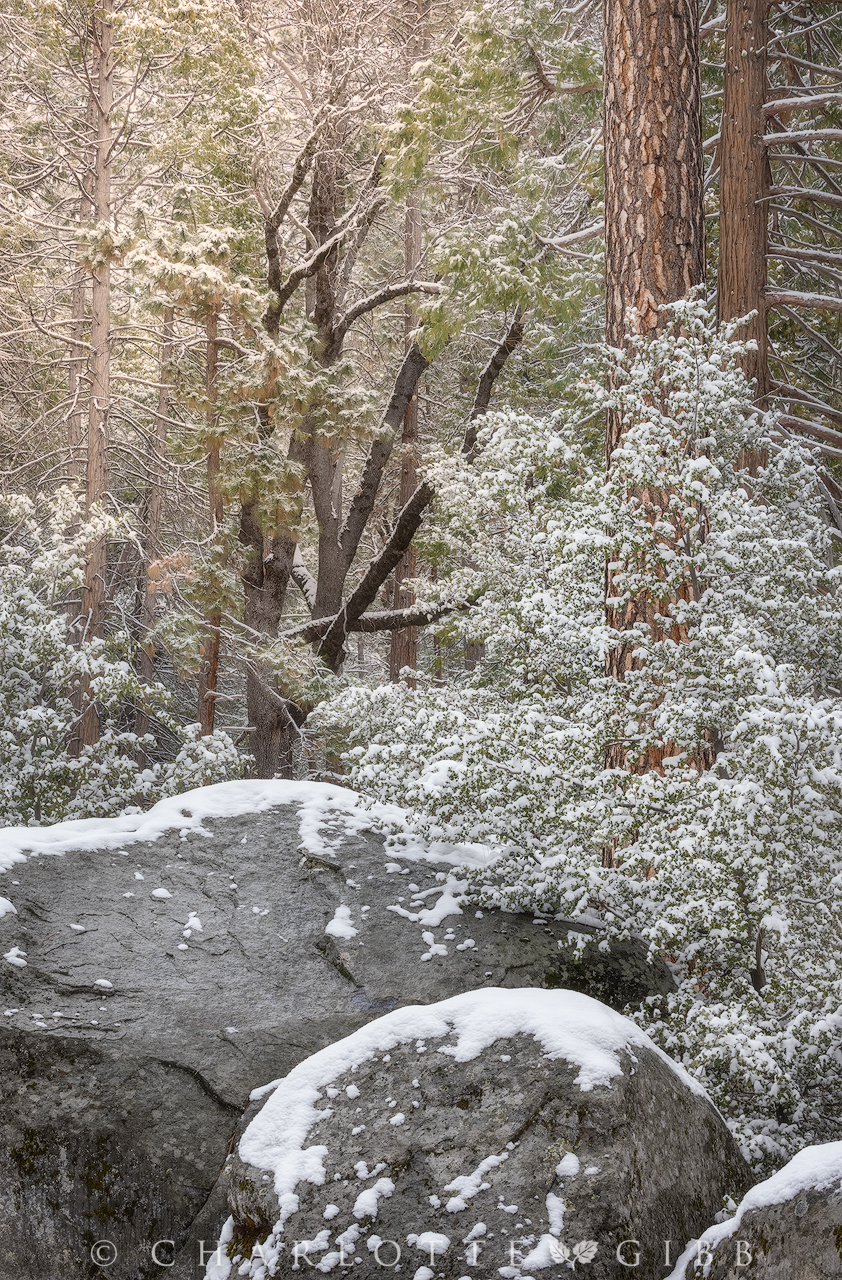 Wawona Photography — One hour. One-half acre.
March 5, 2022
Wawona, California is a small community located entirely within Yosemite National Park's boundary. Most tourists drive past it without a second glance. They are usually on their way to or from Yosemite Valley, Glacier Point, or the Mariposa Grove. But, Wawona is a very special place, and very near and dear to my heart.
A mountain community
Most of Wawona's residents are transient guests, occupying one of the many rental homes while on vacation. But about 200 people are permanent residents. Wawona has a hotel and restaurant, two small grocery stores, a post office, gas station, elementary school, library, and even a golf course. The South Fork of the Merced river bisects the town, tumbling over huge granite boulders. The river passes under a suspended, swinging foot bridge, and further downstream it passes beneath the famous Wawona Covered Bridge.
Wawona is heavily forested, mostly with incense cedar and ponderosa pine, but there are also sugar pine, white fir, Douglas fir, black oaks, and cottonwood. Even after a rare Mono wind event toppled hundreds of trees last year, it remains a very wooded area.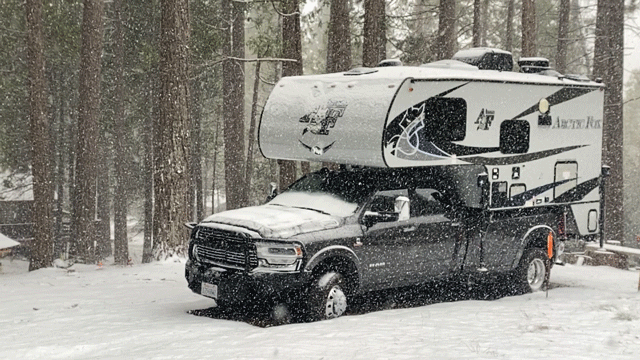 Snow!
Wawona gets some snow throughout the winter, but it usually doesn't accumulate, and melts quickly. So, when it does snows, it's really special. I keep a close eye on weather forecasts, hoping for interesting photographic opportunities. A winter Sierra storm was recently forecasted with snow predicted down to 2500 feet. That meant snow for Wawona at 4,000 ft. elevation. Gary and I decided to head up there in our truck camper to photograph and ride out the storm.
We woke to a freezing world covered with snow. We weren't thrilled about driving the rig in those conditions, so I decided to challenge myself to photograph only within 1/2 acre around where we were camped. I haven't photographed much in Wawona, but the snow had transformed the place, rendering it wondrous and photogenic. I tromped around the snow-covered, 18-degree landscape, making a few compositions until I was too cold and had to go inside to warm up. Within just a few minutes, the light snow turned heavy, with gigantic snowflakes gently drifting to the ground.
Revisiting the same composition in changing conditions
I gathered my gear and headed back out to the cold, noticing immediately how the landscape had changed. The falling snow added atmosphere and made it easier to isolate elements of the compositions. Everything appeared softer. Colors were substantially diffused. And it was so quiet! I love the way snow muffles sound, and this already-quiet refuge was completely silent.
A few tips to consider when photographing in snow
When I photograph in conditions where there is stuff flying through the air — snow, rain, sand, or seawater — I avoid changing lenses. Most current professional-grade cameras are pretty weather-proof and can handle some moisture. However, when you remove a lens, the sensor is momentarily exposed. Dust and other matter can collect on the sensor. I find it is better to just choose a lens and stick with it for the entire session. For this scene, I decided on my trusty Canon 70-200mm L lens. I used a simple plastic camera cover to protect it, attached it to my tripod, and off I went.
When photographing in snowy conditions, the first thing to think about is shutter speed. Do you want the snowflakes to be blurry or sharp? Experimentation is key, so I went back to the same spots I had visited earlier and played with different shutter speeds as the snow was falling. Also, when photographing snowy scenes, ensure you are not blowing out the highlights. Check your "blinkies" (highlight alert) and the histogram.
A final note of advice: in order to help keep the snow off the front of the lens, be sure to use a lens hood. The lens hood won't completely prevent snow from getting on your glass, but it helps. Check the front of the lens frequently, and keep a lens cloth handy to wipe it down if it gets wet. In windy, snowy conditions, it can be nearly impossible to keep the front of the lens clear of snow. In that situation, I use an umbrella to shield the lens. If you're really lucky (like me!), a willing partner can hold the umbrella over your lens while you work!
Click on the photograph to enlarge to full screen.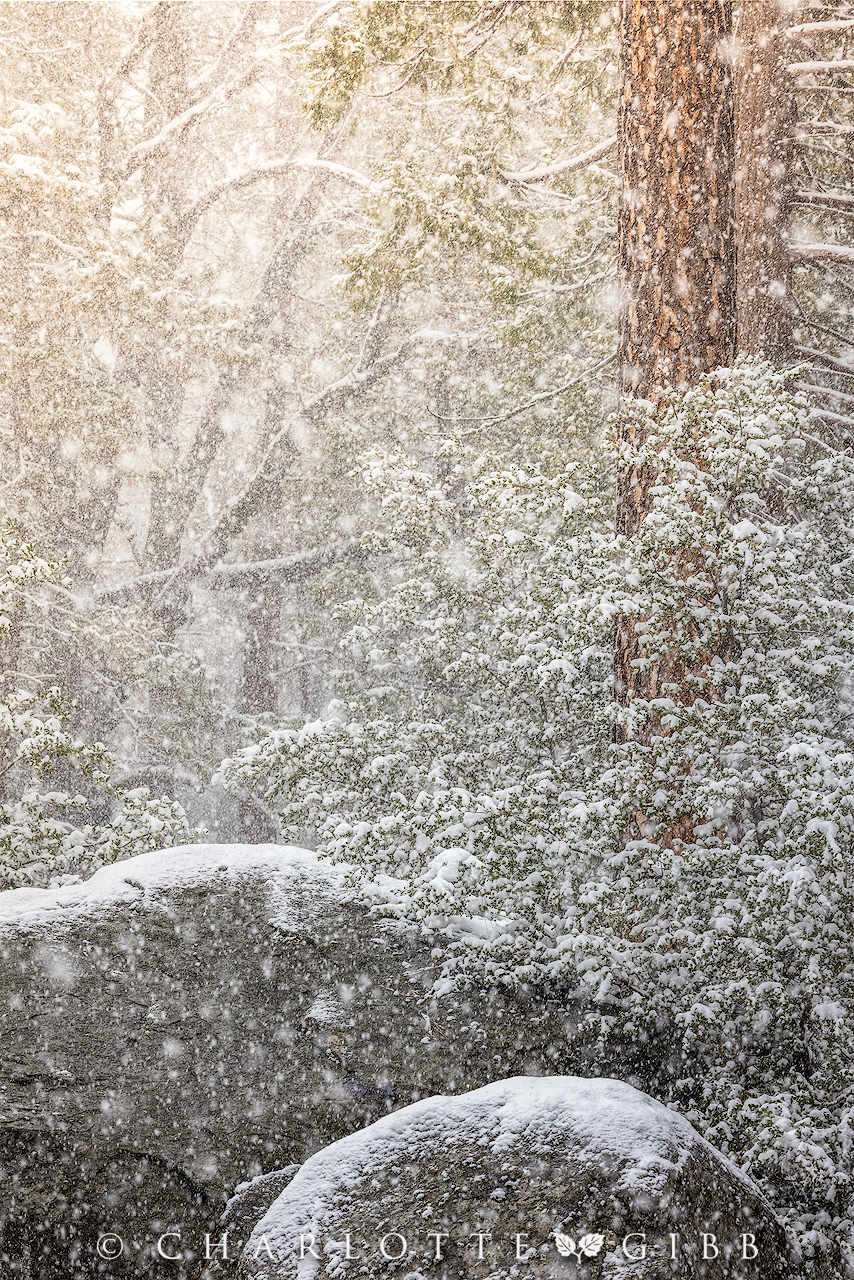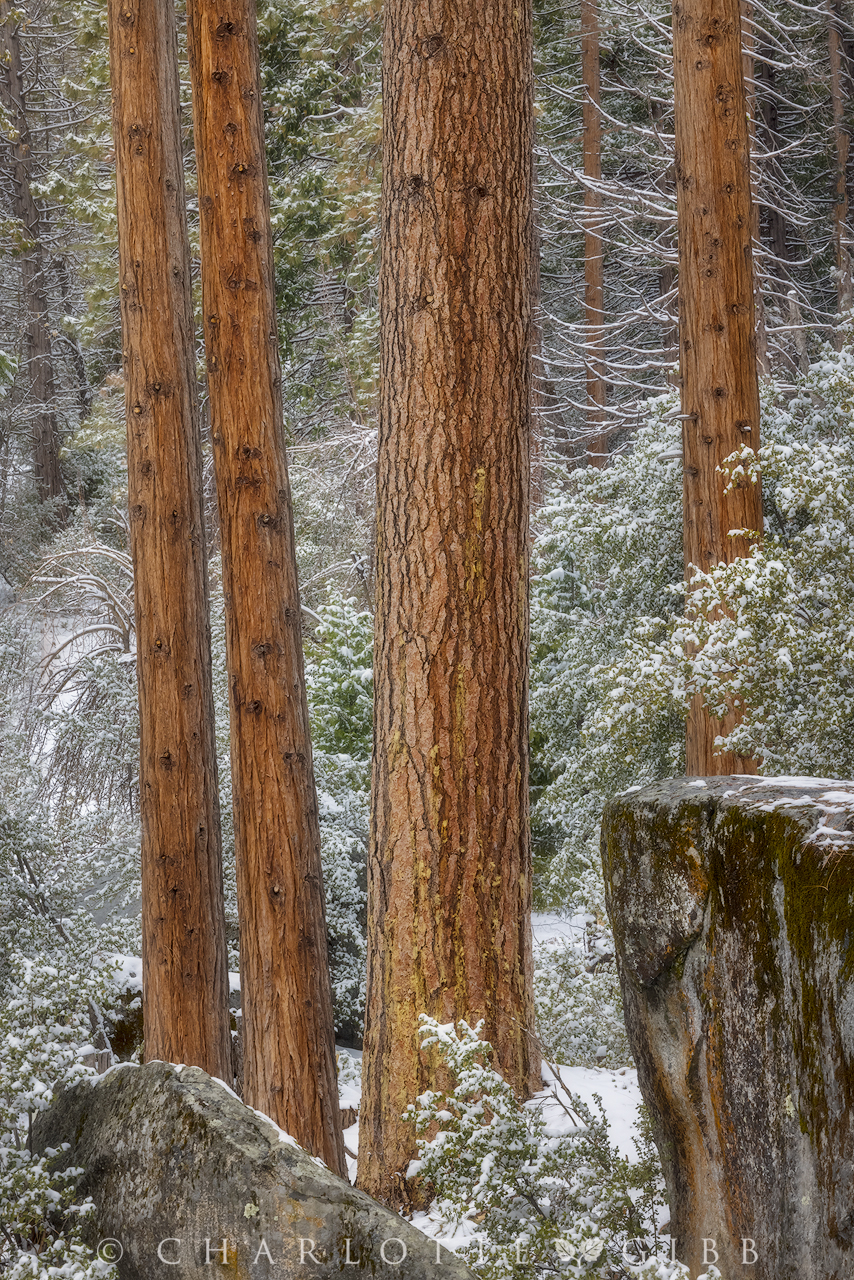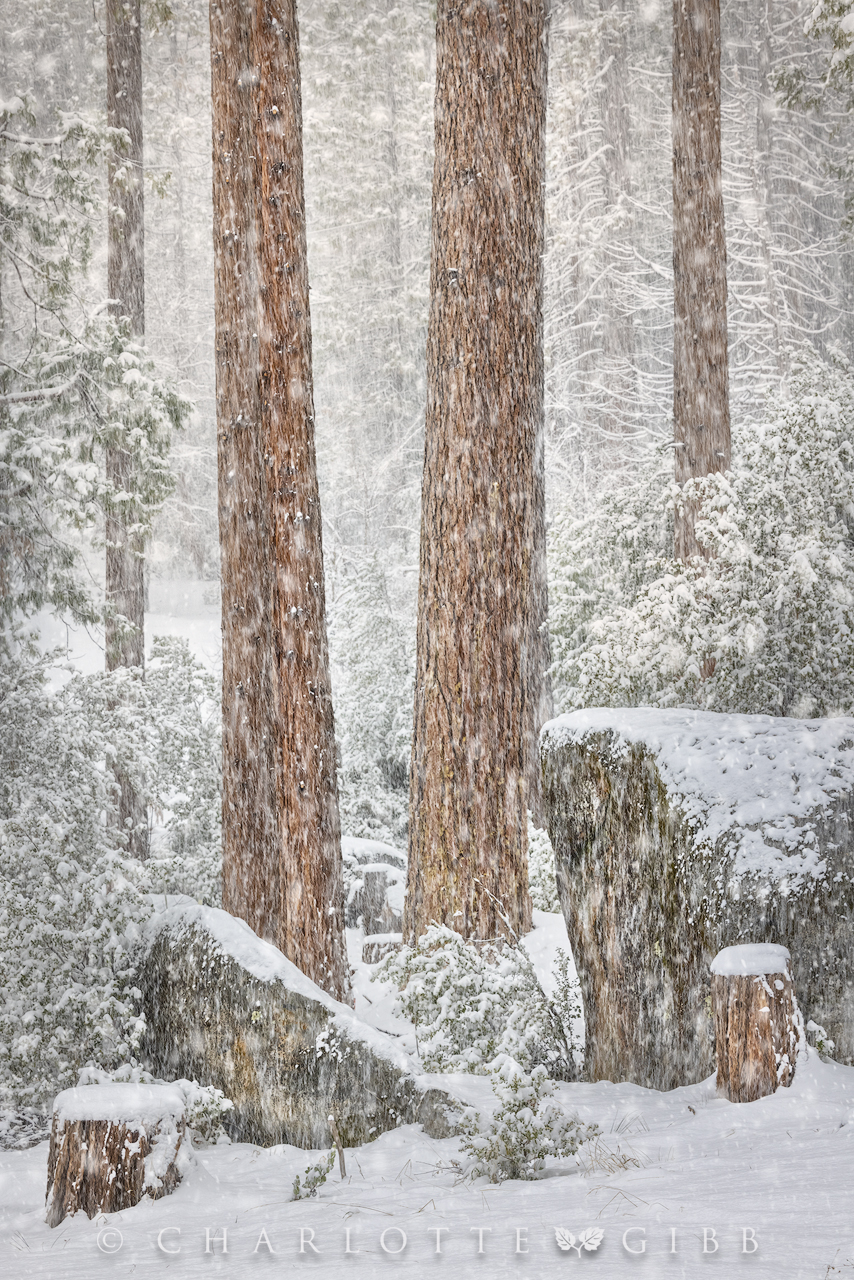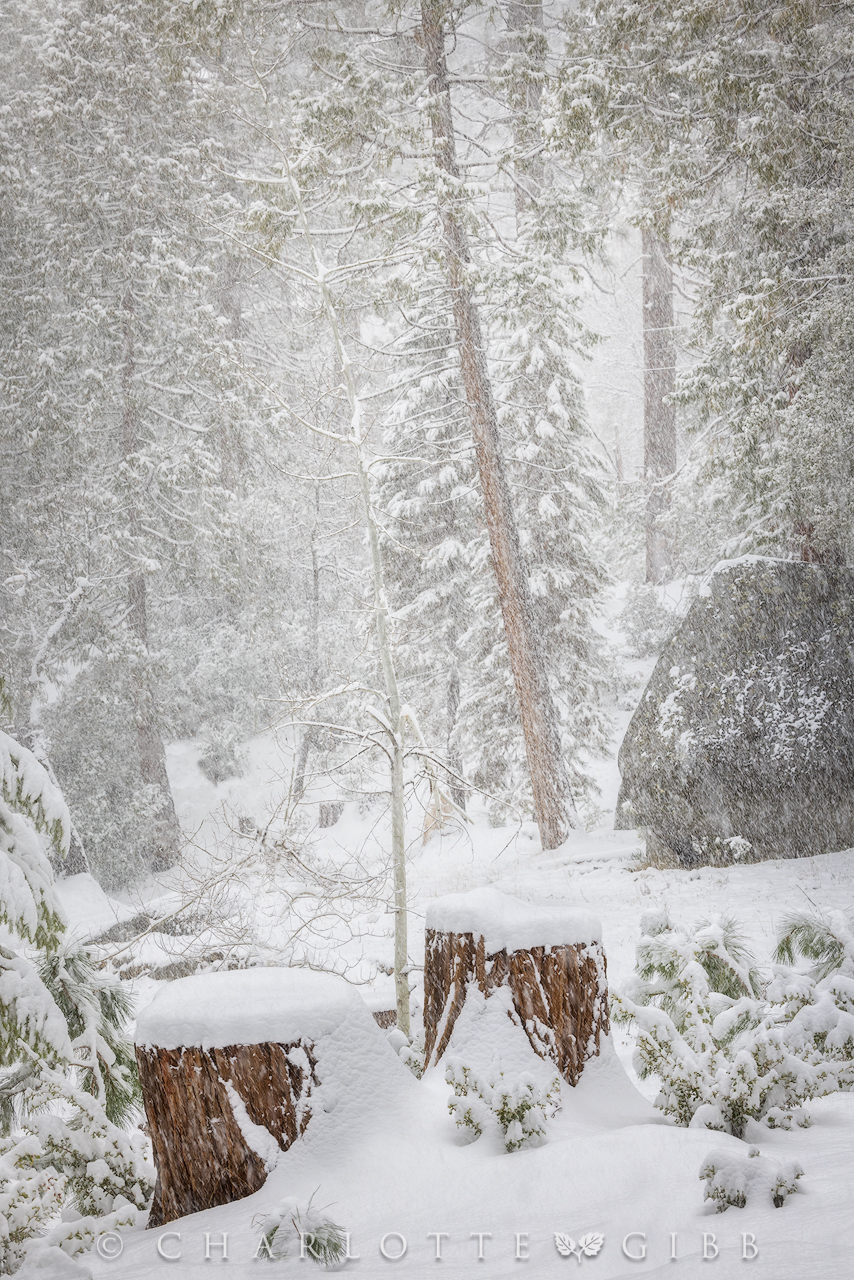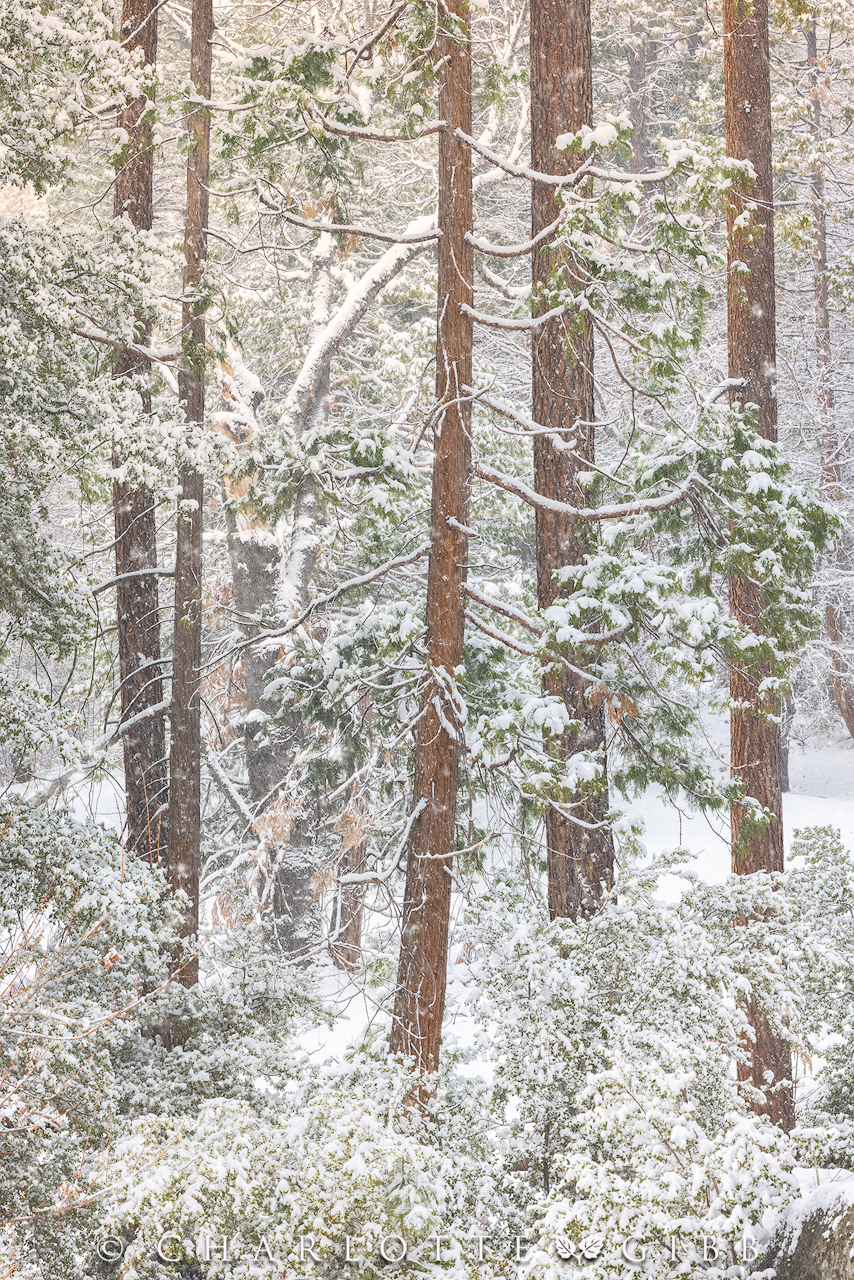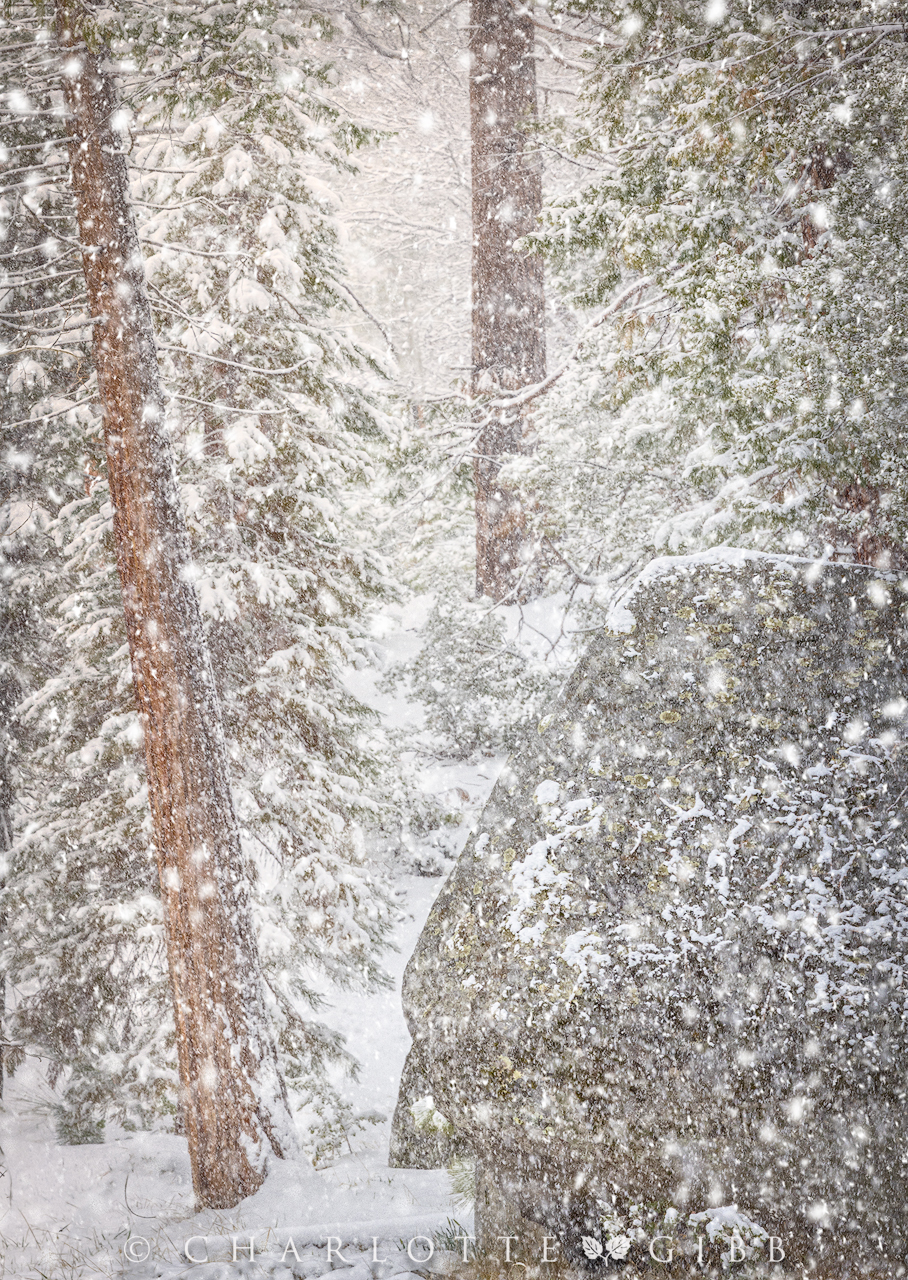 Charlotte Gibb is a contemporary fine art photographer based in the San Francisco Bay Area specializing in landscapes of the Western United States. Her images are often taken in familiar places for the well-versed landscape photographer, but she prides herself on her keen eye toward the subtle and sometimes overlooked beauty of the natural world. Growing up among the beautiful mountains of Northern California, she considers herself a student of life, learning about people, nature, music, and photography along the way. But always, her life-long passion for the wilderness shines through it all. Charlotte earned her Bachelor of Arts degree from the Academy of Art University in San Francisco and has exhibited her work in several solo shows throughout California. Her darkroom, long gone now, has been replaced with digital darkroom tools, and her style has evolved from a somewhat journalistic approach, to one that pays tribute to the natural world. 
Related Posts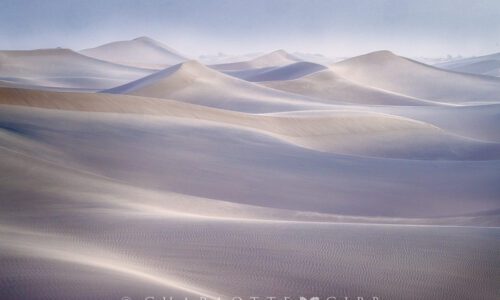 February 11, 2022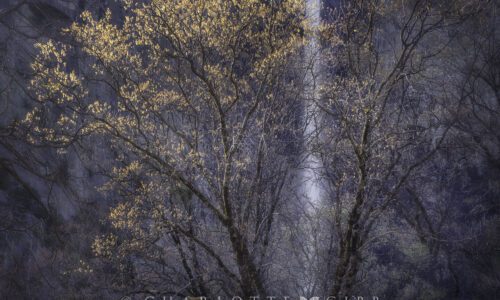 April 23, 2021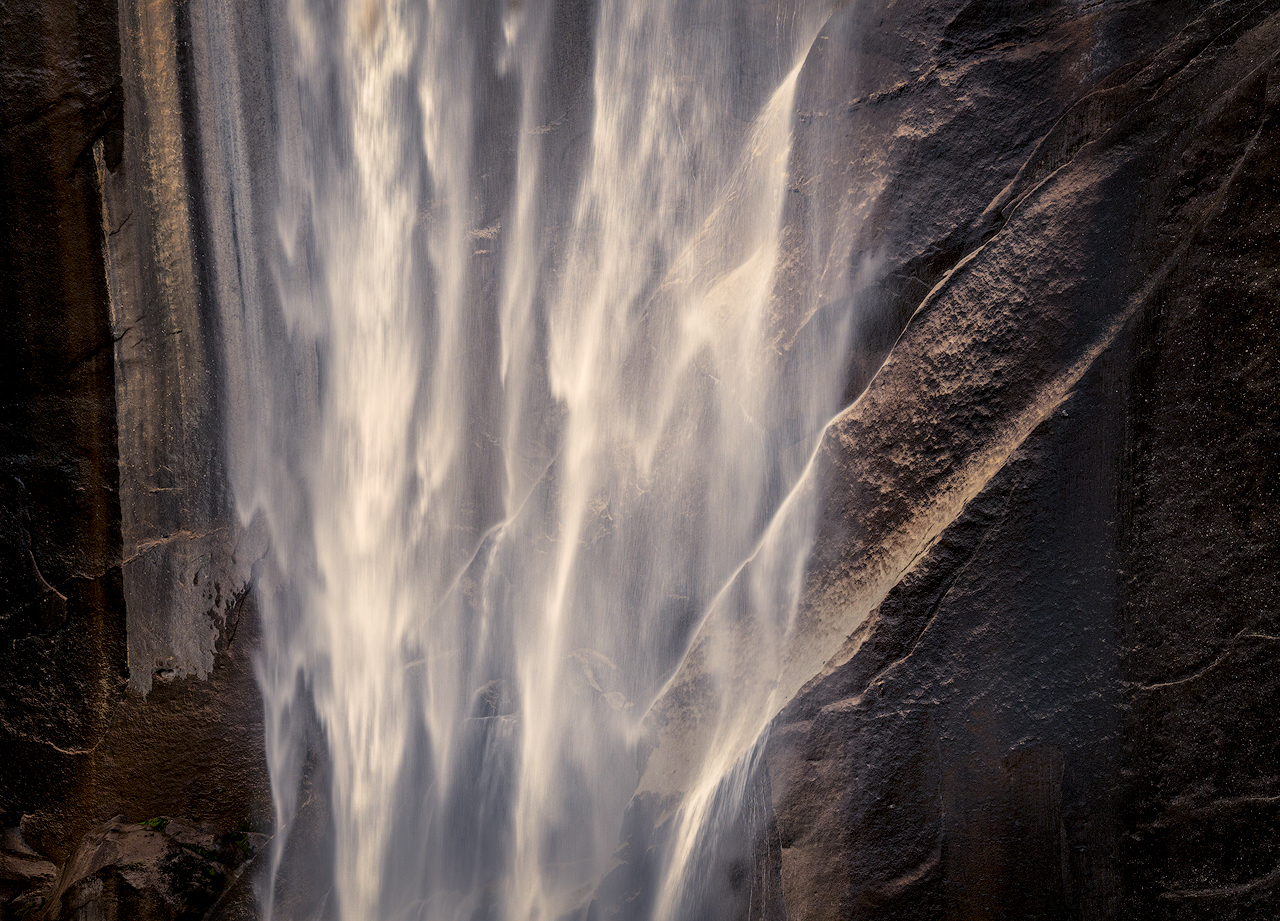 March 29, 2020