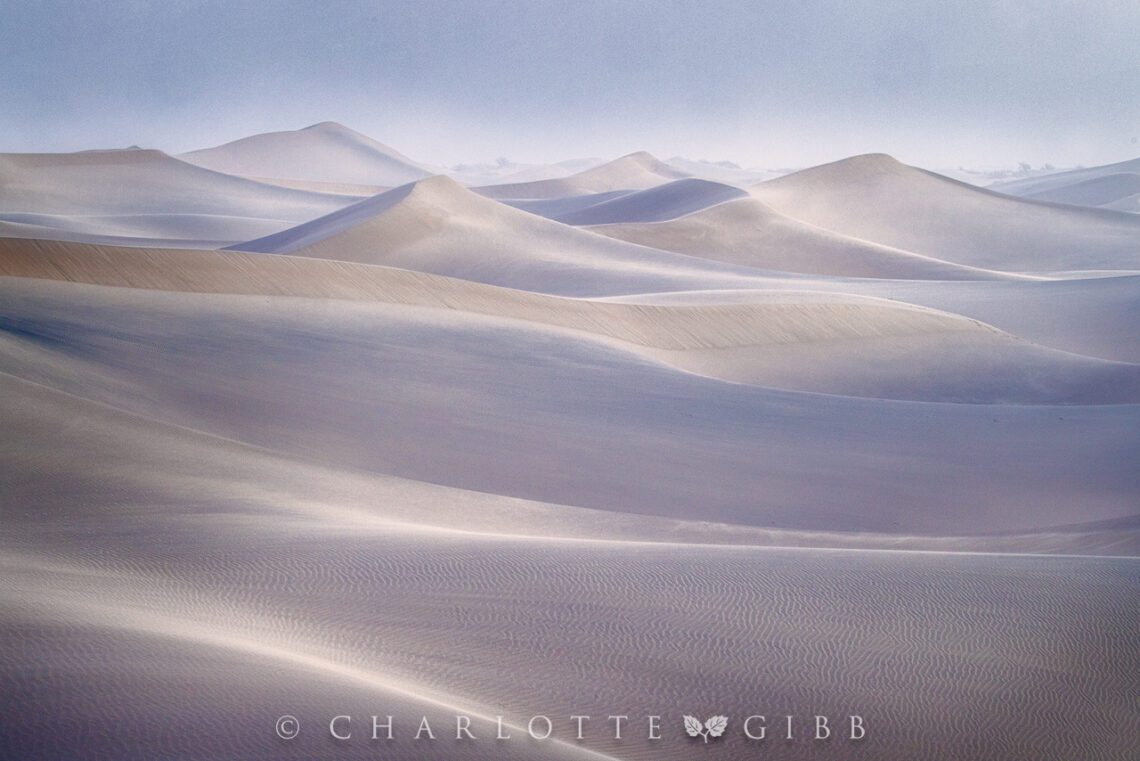 A Mountain Girl Goes To Death Valley
February 11, 2022
"Standing there, gaping at this monstrous and inhumane spectacle of rock and cloud and sky and space, I feel a ridiculous greed and possessiveness come over me. I want to know it all, possess it all, embrace the entire scene intimately, deeply, totally…"  ― Edward Abbey, Desert Solitaire, about his time in Death Valley and Arches national parks.
Edward Abbey wrote, "There are mountain men, there are men of the sea, and there are desert rats." Where is your happy place? For me, it is the mountains that make my soul sing. I grew up in Northern California, playing in the forests and creeks around our home. The mountains were full of life — birds, coyotes, deer, rabbits, pollywogs, bats, frogs, fish — all of which captivated my young imagination.
So, when I ventured to photograph Death Valley in January, I felt strangely off-balance. There were mountains, yes, but where were the trees, the flowing rivers and creeks, and the animals? I found this national park largely devoid of life, as its name implied. Compared to my beloved Sierra Nevada, Death Valley seemed very strange and mysterious. I did not feel at home in the desert as I did in the mountains, and I knew that photographing here would be a challenge for me.
Making sense of the landscape
I often advise my students that, in order to make a truly beautiful landscape photograph, the photographer must feel an authentic connection to their subject. I definitely did not feel connected to this dry, arid landscape. Not only was it unfamiliar to me visually, I had very little knowledge about its geology, history, or biology. Since I try to practice what I preach, I decided to lean into my natural curiosity to spur my creativity.
I pondered Death Valley's sand dunes. Why did they form in specific places, near the base of mountains? I fell in love with the graceful alluvial fans that formed over millions of years at the mouth of canyons. And, I learned about the endangered little Death Valley pupfish that thrive in Salt Creek, although I didn't get to see one.  I read about the geologic history of the obscenely colorful terrain at Zabriskie Point and at Artist's Palette, and learned that what I was seeing was a piece of our planet's violent history. As I learned about Death Valley, my puzzlement gave way to an appreciation for its raw beauty.
A land of contrasts
Death Valley is full of extremes and contradictions. A rare rainstorm in October can cause a wildflower super-bloom in the Spring, bringing staggering brilliance to the otherwise bleak landscape.
Here's another Death Valley fun fact. Badwater Basin is the lowest elevation in North America, at 282 feet below sea level. While, just 85 miles away is Mount Whitney, the highest point in the contiguous United States, with an elevation of 14,505 feet.
Speaking of extremes, the hottest air temperature ever recorded on Earth was 134 °F on July 10, 1913, in Death Valley's Furnace Creek. The same year, the valley's lowest temperature was recorded at just 15 °F.
The mystery of the Sailing Stones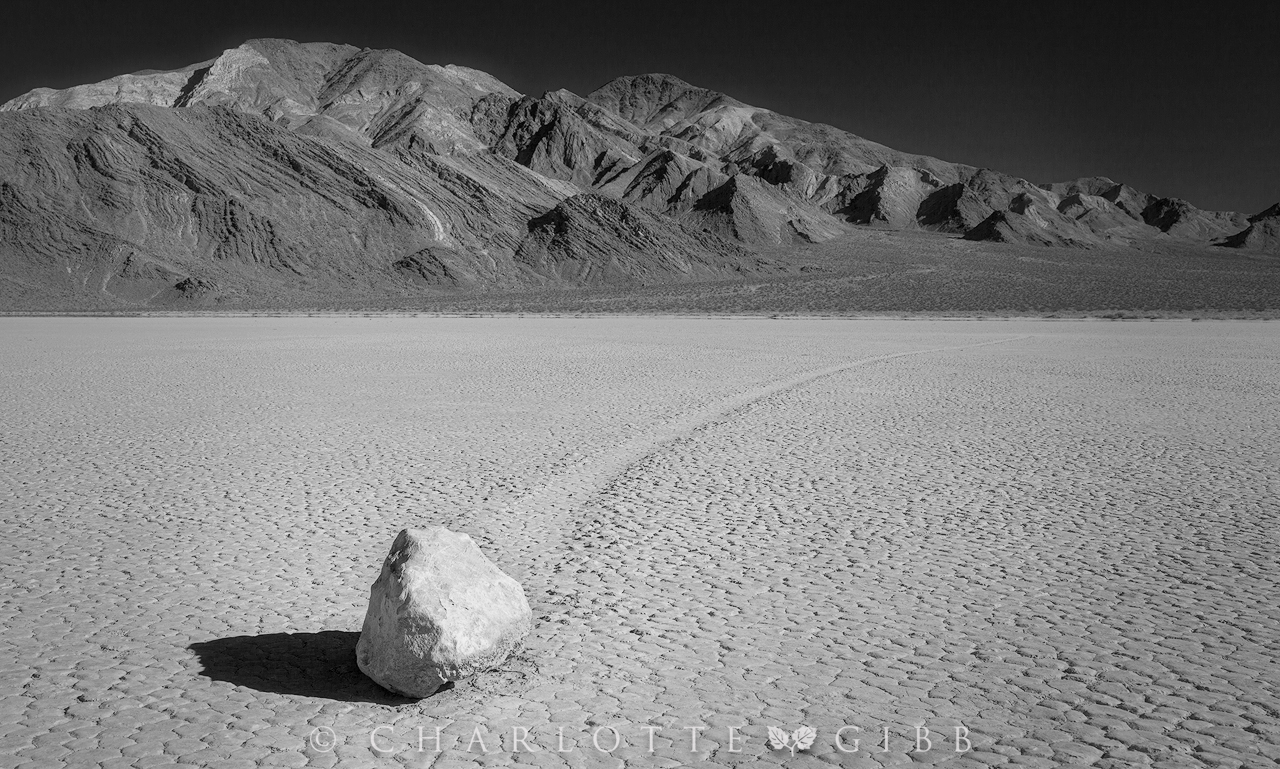 The most famous Death Valley mystery was around the "sailing stones" at Racetrack Playa. This remote playa is exceptionally flat and level with the north end being only 1.5 inches higher than the south end. Large boulders are washed down from the surrounding mountains during storms and come to rest on the playa. As evidenced from "trails" indented in the cracked mud, these boulders travel around the playa, but no one had ever witnessed them moving. I had read about this phenomenon and even photographed the boulders with their long trails back in 2013. I was a little sad when, later the same year, scientists drilled holes in several of the boulders, attached GPS devices to them, and ultimately uncovered the mystery of the rock trails.
Making the connection
Exploring these mysteries and many others helped me begin to appreciate the unique and extreme qualities of the park, and ultimately connect emotionally to it. In the end, I felt that I came away enriched by the experiences, and I managed to create a few photographs that were acceptable. But, I think it will take many more visits before I can be satisfied that I have expressed what I feel about Death Valley in my photographs. There are still more to discover on future trips.
I won't tell you how the boulders move across the desert floor. It is certainly easy enough to find out with a simple Google search. Sometimes, it is more fun to discover things for ourselves, and allow others to enjoy the same pursuit.
About the Photos
Each of my photographs below has a bit of a story to go with it, which I've included in the captions. Click on the image to enlarge it.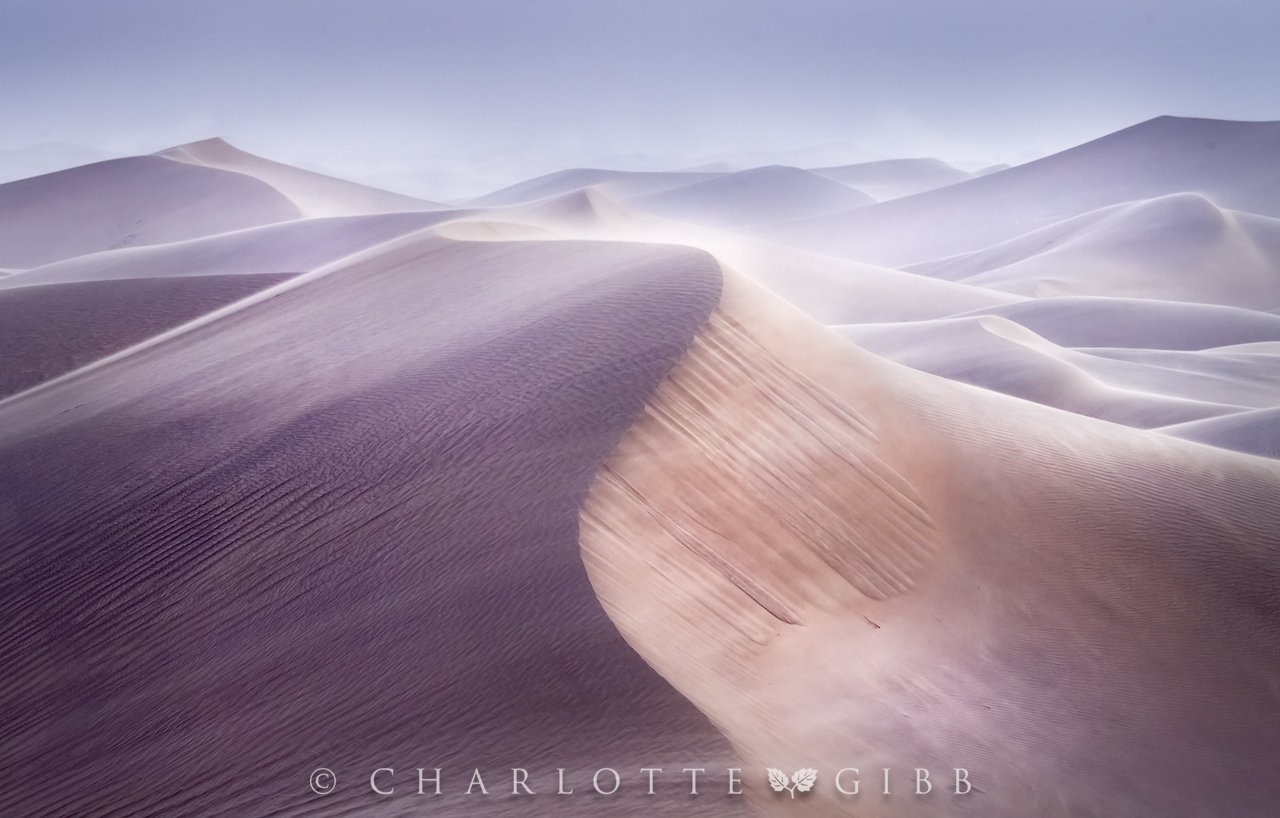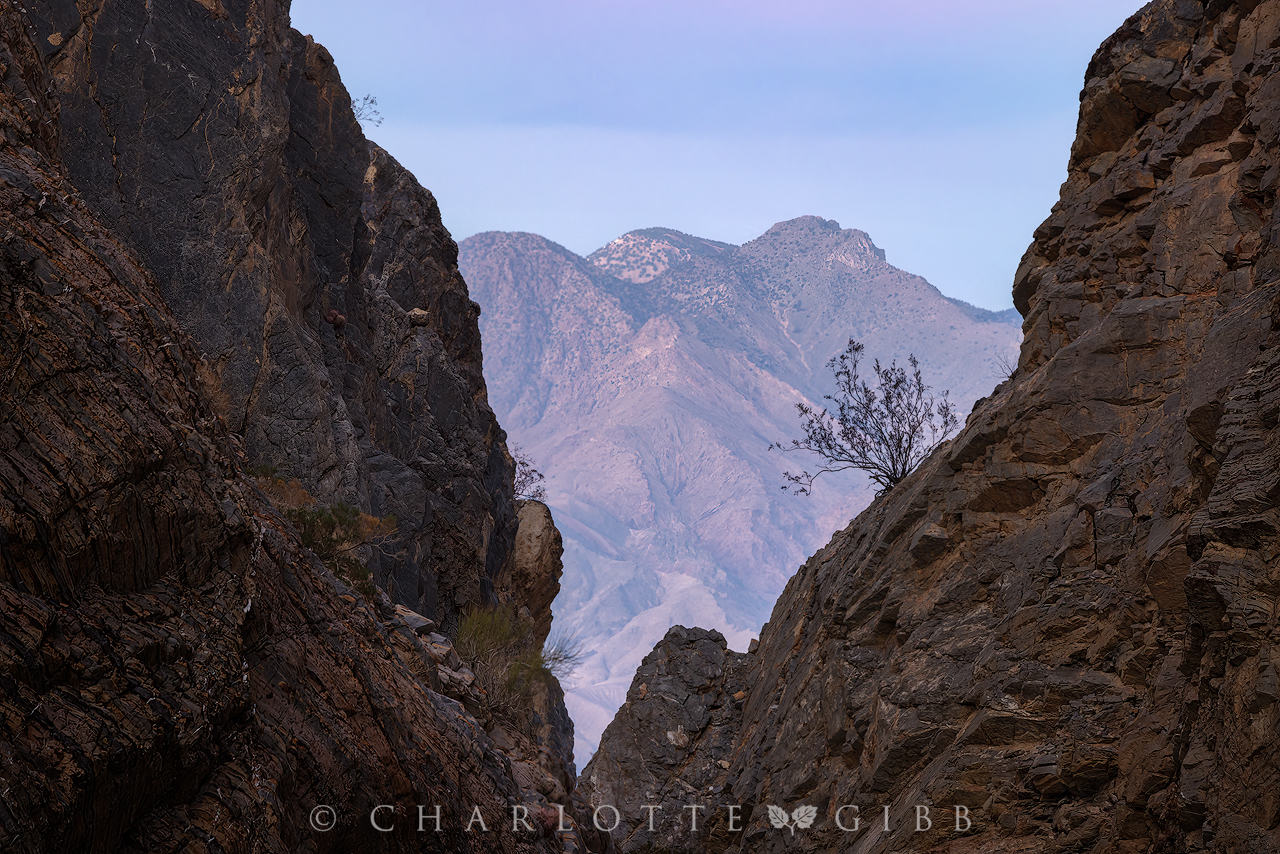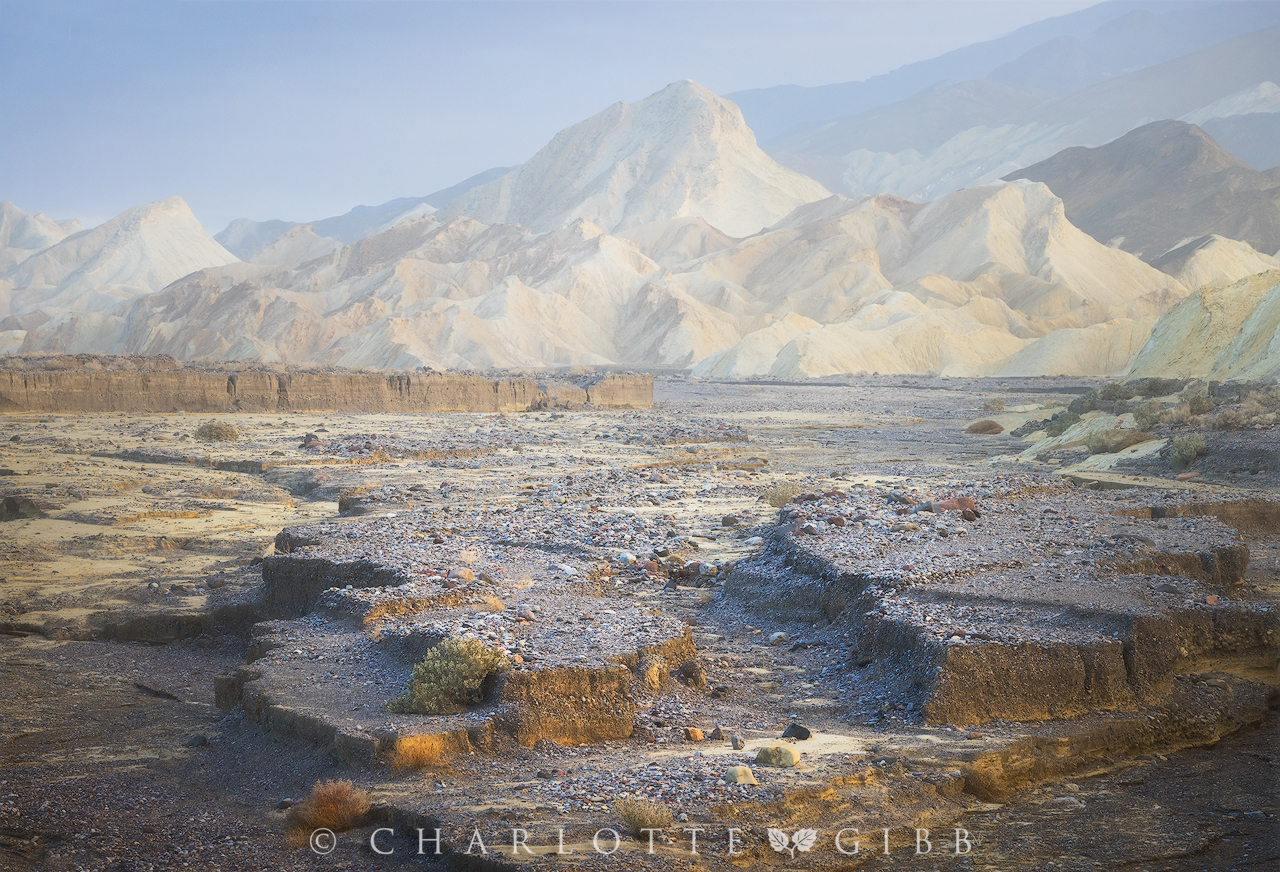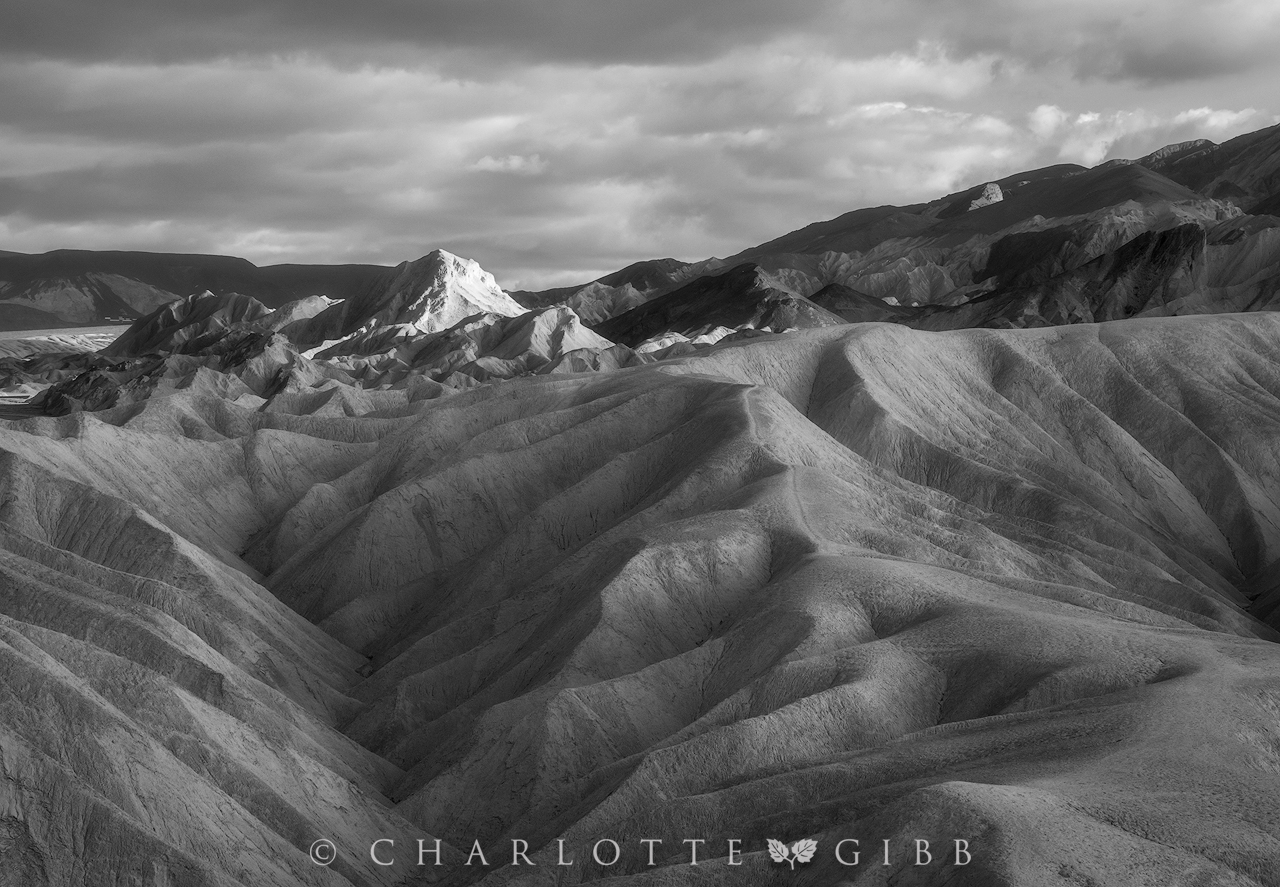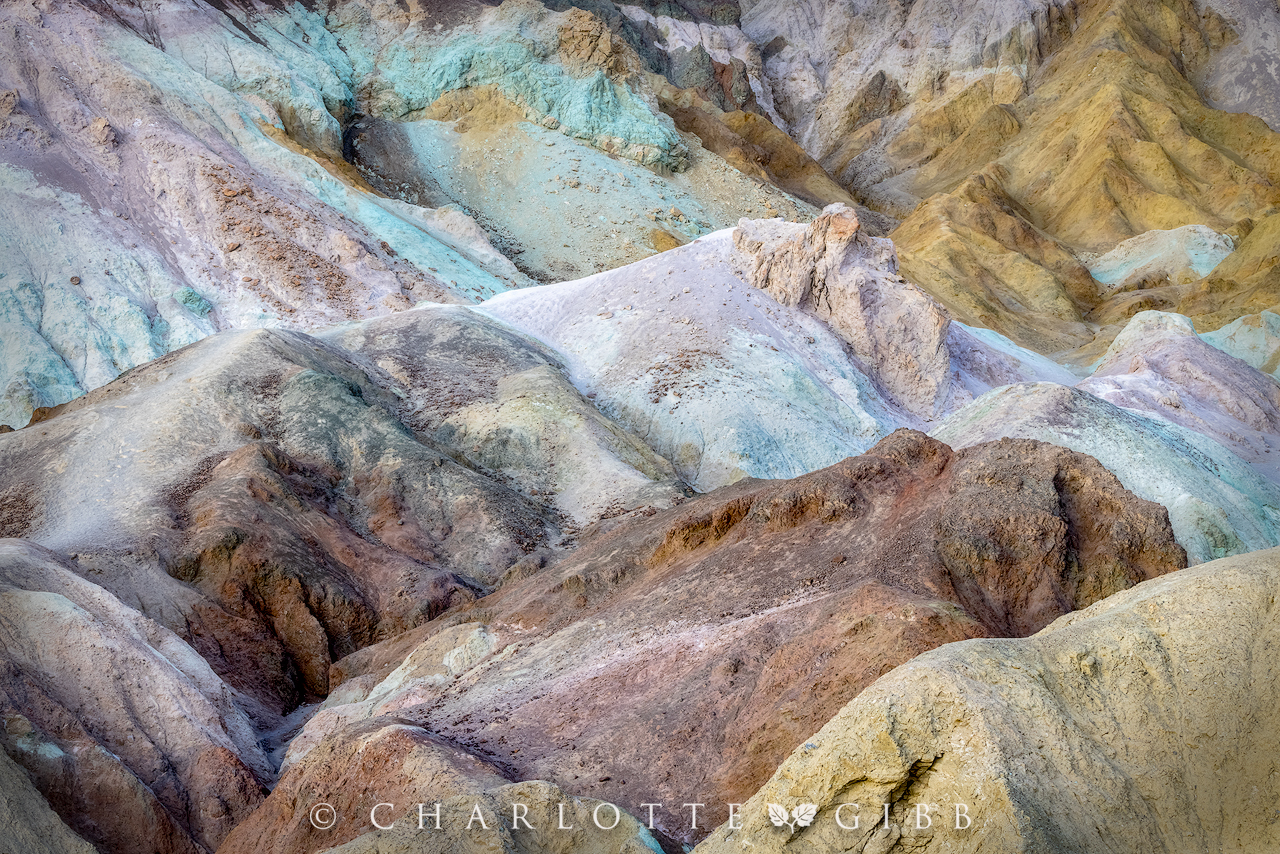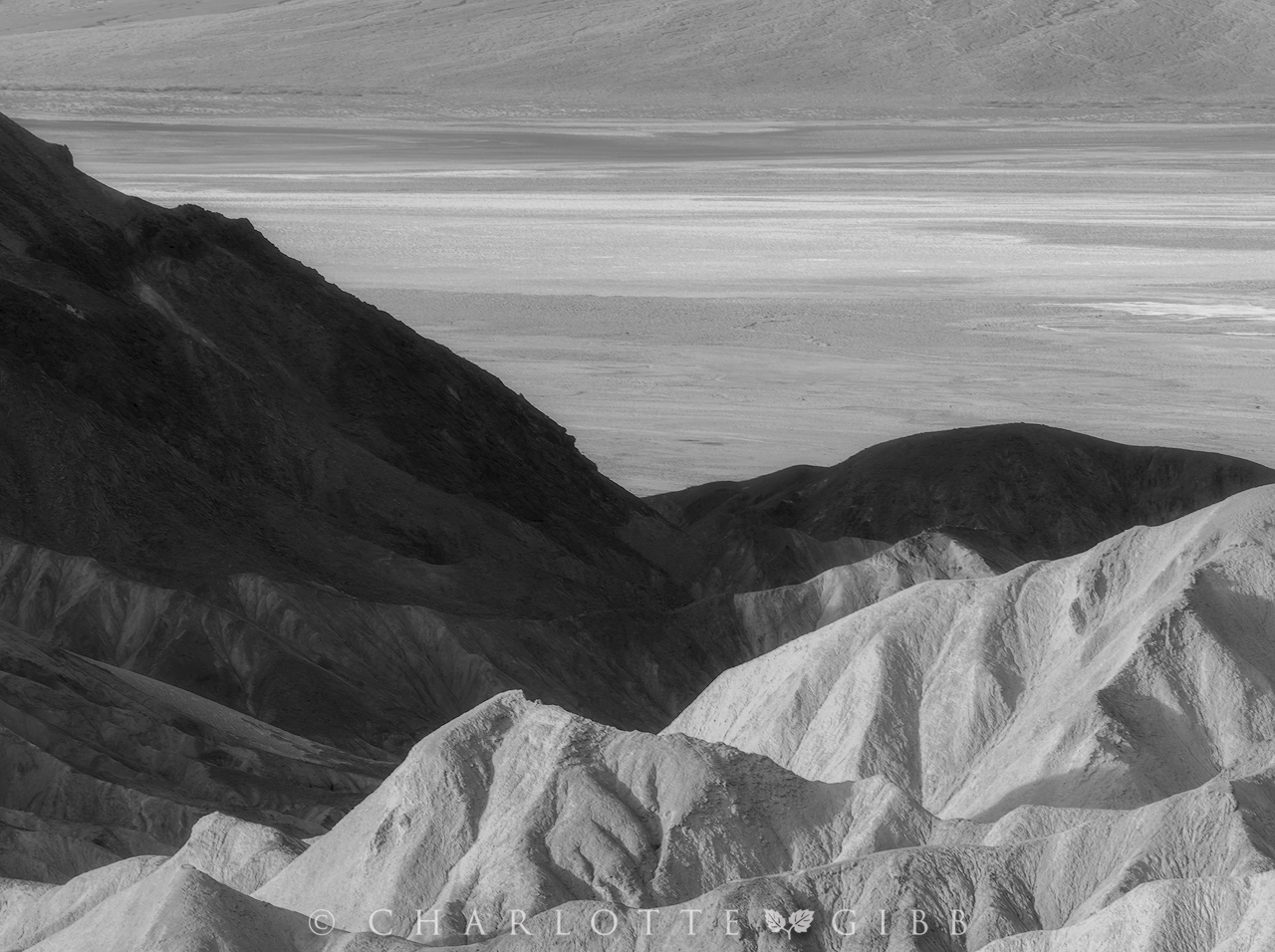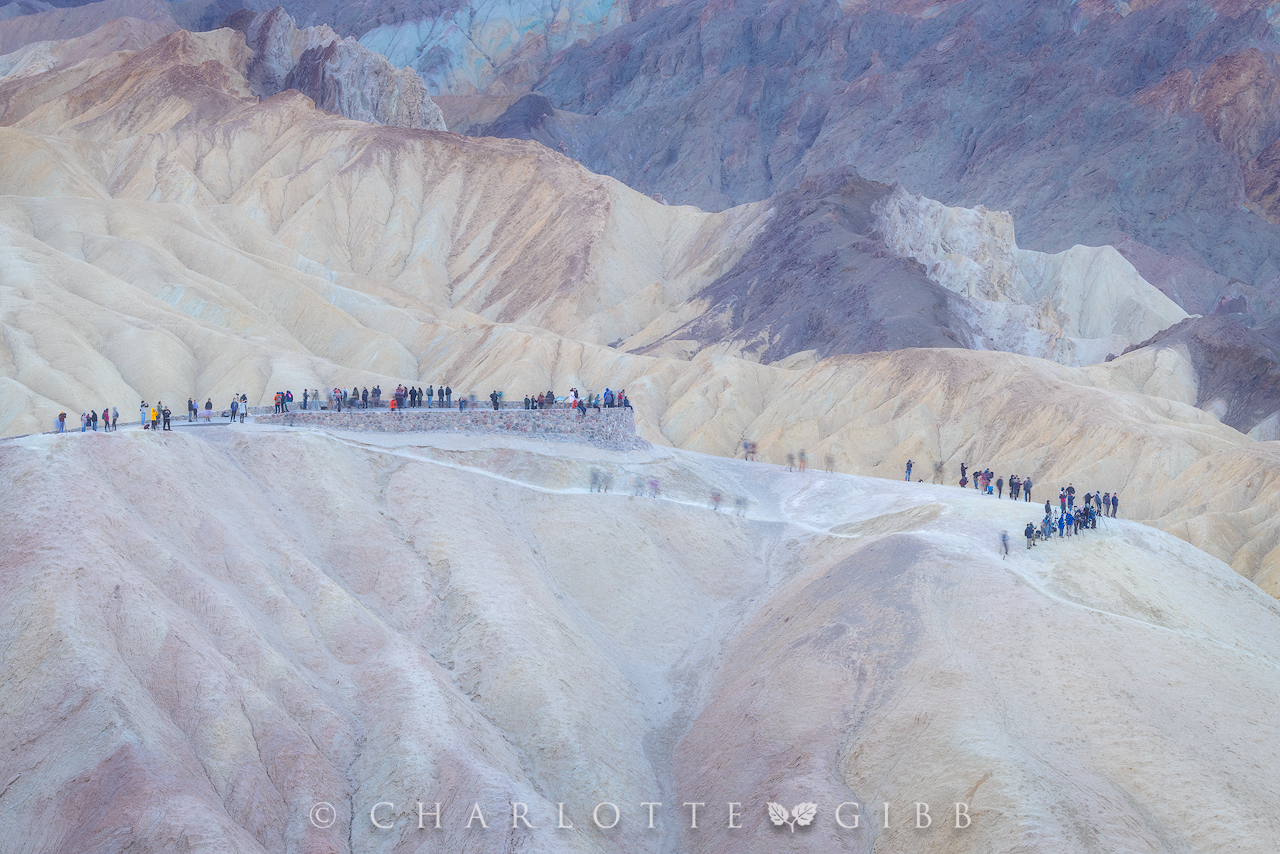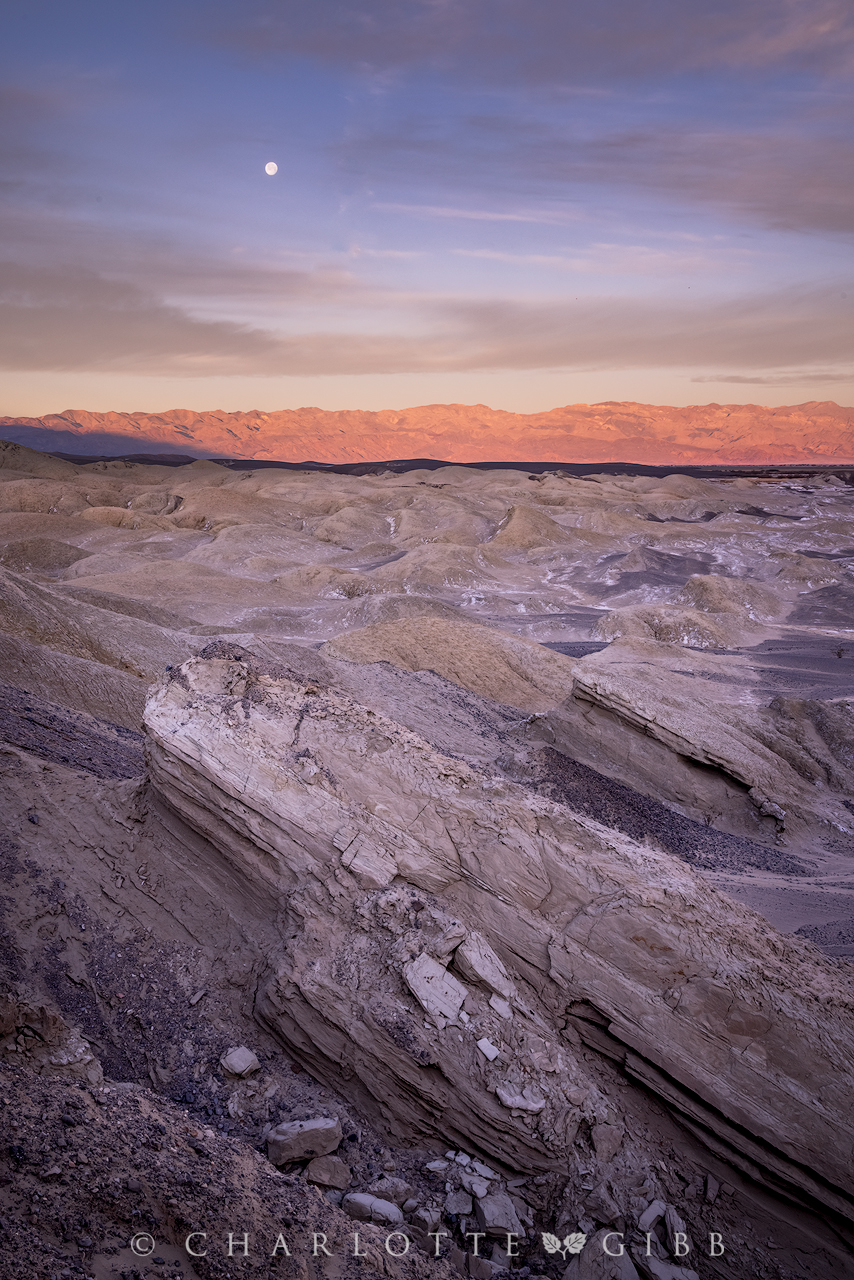 Charlotte Gibb is a contemporary fine art photographer based in the San Francisco Bay Area specializing in landscapes of the Western United States. Her images are often taken in familiar places for the well-versed landscape photographer, but she prides herself on her keen eye toward the subtle and sometimes overlooked beauty of the natural world. Growing up among the beautiful mountains of Northern California, she considers herself a student of life, learning about people, nature, music, and photography along the way. But always, her life-long passion for the wilderness shines through it all. Charlotte earned her Bachelor of Arts degree from the Academy of Art University in San Francisco and has exhibited her work in several solo shows throughout California. Her darkroom, long gone now, has been replaced with digital darkroom tools, and her style has evolved from a somewhat journalistic approach, to one that pays tribute to the natural world. 
Related Posts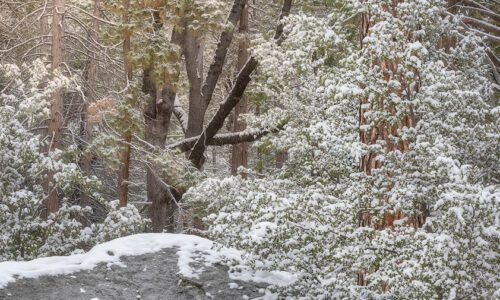 March 5, 2022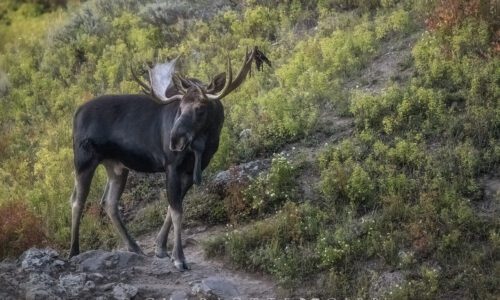 December 29, 2021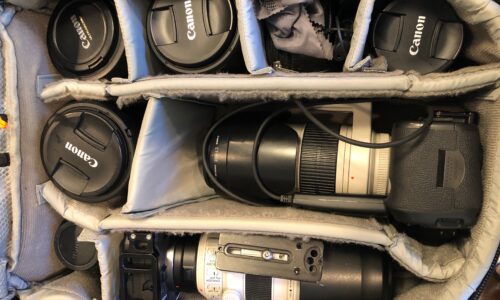 May 29, 2021