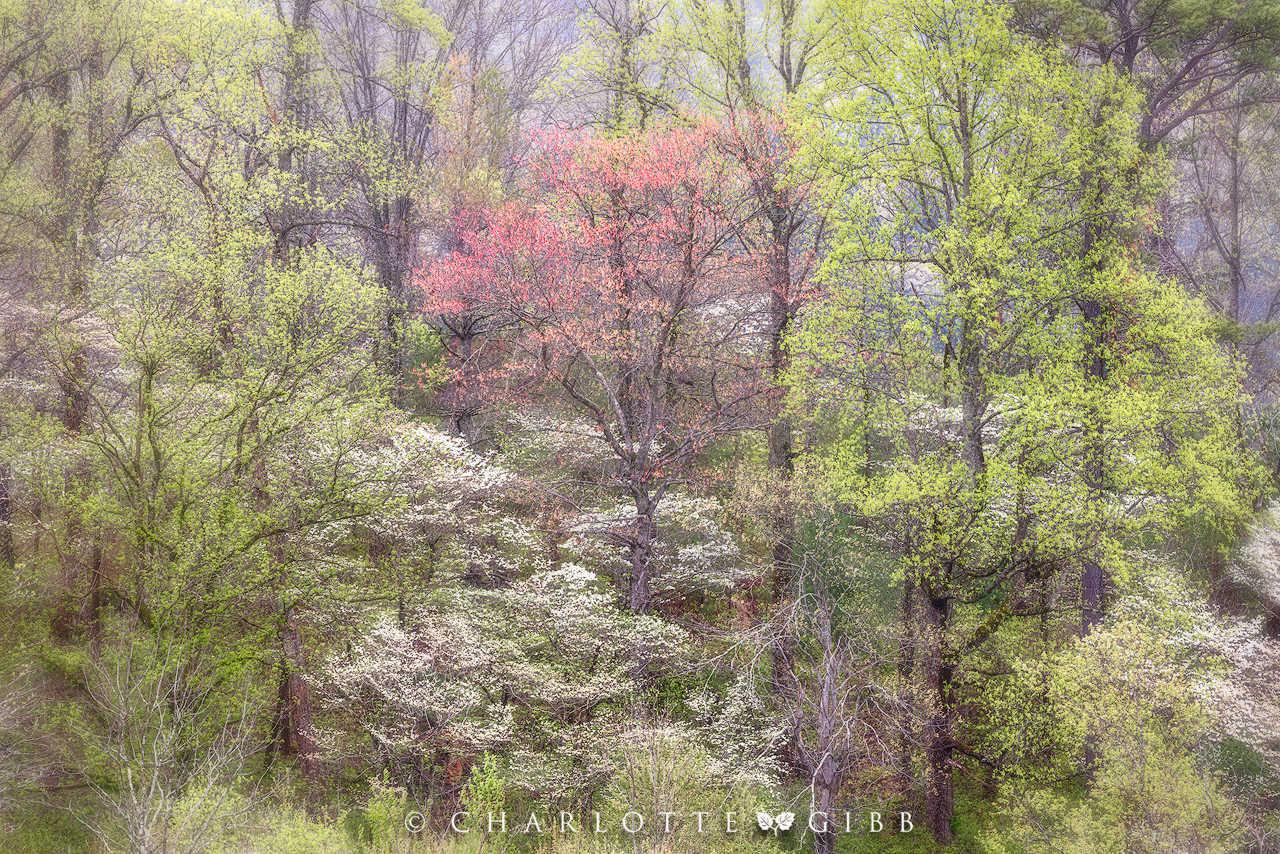 Revealing the ancient, quiet beauty of the Great Smoky Mountains
September 4, 2019
When the opportunity presented itself to photograph the Great Smoky Mountains National Park last Spring, the decision to go was an easy one. I had envisioned photographing this place for some time. Anyway, I was scheduled to be a keynote speaker at the Georgia Nature Photographer's Association annual conference outside of Atlanta. That's about as close to Tennessee as I would get for some time. So, I packed my camera gear and headed out early in time to see the Smokies in all their Spring glory.
Inspired by Eliot Porter's colorful photographs made in the Great Smoky Mountains in 1967, it was clear that this place would provide a plethora of subject material relevant to my photographic style — details of tangled forests, vigorous rivers, and an enormous variety of tree species. Porter called his collection of images derived from details of nature "Intimate Landscapes."
Ansel Adams also photographed the park in 1948, his first and only recorded visit to Tennessee. He was hired to photograph the place as part of a Guggenheim Fellowship on America's national parks and monuments about 14 years after the park was established. Adams wrote his friend, Beaumont Newhall, on October 9th, 1948, "The Smokys [sic] are OK in their way, but they are going to be devilish hard to photograph."
If Ansel Adams was wondering about how to photograph this new National Park, how was I going to do it?
"We don't seem to have simple compositions like out West."
With only a week to figure out where to go, I enlisted the assistance of local photographer, Tyson Smith. Tyson generously offered to provide a tour of the area. However, he warned, I might not find the Smokies easy to photograph. "We don't seem to have simple compositions like out West," he wrote, echoing Adams' sentiment.
He made a good point. The landscapes of the American West bring to mind broad, sweeping views of sunsets over majestic seascapes, deserts, and mountain scenes with waterfalls a thousand feet tall. The Smoky Mountains look nothing like these grand landscapes. Rather, the Smokies possess a quiet beauty — one that requires stillness and contemplation in order to tease out its subtle loveliness.
Unlike my beloved Sierra Nevada mountains, which seem petulant and moody by comparison, the Smokies have an ancient feel. These mountains are very old. They were formed between 200 million and 400 million years ago, when the North American and African plates collided. Consequently, the Smokies are soft and round, worn by weather, water, wind, gravity, and time.
Its forests are also very unlike Western forests. Thick and lush from the abundant rainfall, the variety of deciduous trees and shades of green were dazzling. There were Maple, Elder, Beech, Hickory, Buckeye, Birch, and many other tree species.
The Dogwoods were in full bloom in late April. Their cheerful, white blossoms were seemingly everywhere — arching gracefully over rivers and creeks, or reaching up beneath the tall canopy of the forest. The Dogwoods in Yosemite wouldn't bloom for another several weeks, so it was a special treat to photograph these spectacular trees so early in the year.
A single week was hardly enough time to create a portfolio of images to tell the story of the Smokies. It is a visually rich place, and Spring is but one of four seasons. One could easily spend a year in these mountains and still not feel as though they have been thoroughly explored. It still held many secrets I was yet to discover. I must go back.
Each of my images from my Smoky Mountains portfolio are available as limited edition prints on my website.